Officially Open! How Did Our First Month Go?
19 August 2016
In July we officially opened. Founders of Evolution Childcare officially 'cut the ribbon'. Here is a photograph of us in The Lancashire Telegraph.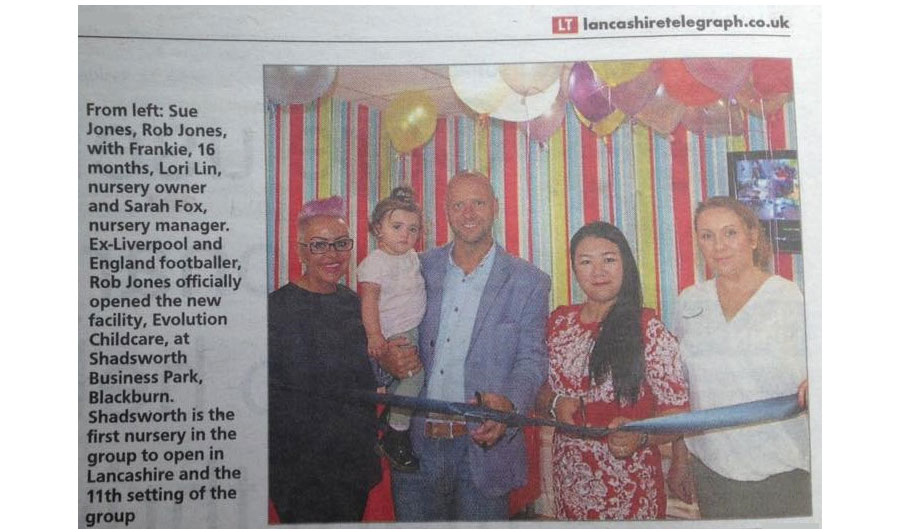 Rob said that "It gives me great pleasure to welcome Evolution Childcare @ Shadsworth Business Park to our Nursery Family. Shadsworth is our first Nursery in Lancashire and our 11th setting of our Group. Lori Lin has spared no expense and provided an unrivalled stunning indoor learning environment for children. Sarah Fox the Nursery Manager has a wealth of Early Years experience and has recruited a dedicated, enthusiastic and passionate team whose childcare credentials are second to none. I wish them all the very best of luck as they embark on this exciting early years journey with us and look forward to delivering our shared goals of outstanding childcare in Blackburn."
It was a fantastic day, which was well supported by the local community.
So how has our first month gone? Well I'm pleased to say that we are doing very well. Word about our amazing nursery is starting to spread. Our Social Media followers have rocketed, and we have got people visiting most days for a look around. Its very pleasing to see all of the hard work paying off, having children attending the setting is fantastic. Hearing them laughing, singing and playing is a joy.
We have also started running 2 weekly sessions for both nursery children and outside visitors. Each Wednesday we run a Baby Massage Class. Gill Towers from The Daisy Foundation runs the class and has a wealth of experience to share with new parents. You need to book your place on this class, we are offering the first class free & then its £3.00 after that. Each Friday morning we run a free Stay & Play session. An educational 90 minutes, the staff are on hand to speak to parents, discuss development issues, offer advise about activities & creating learning opportunities at home. We offer a healthy snack and always finish with song time & a story. We provide activities for babies, toddlers and pre-schoolers and its a group that is growing every week.
We've also welcomed new staff. Lorraine Joined us at the beginning of August. She has over 20 years of experience teaching children. Shes a lovely lady who is fantastic with the children. She will be working right across the nursery offering support to each room. Weve also hired a male practitioner. Adam will start with us in September, he's a highly qualified sports coach, so he will be our sports co-ordinator, and will take the children for regular physical development sessions. Having positive male role models across education is very important and men are under-represented in early years, however at Evolution we are very big on Equality and Diversity and will always try to challenge expectations.
So a very good first month, lets hope the months to come prove to be just as successful.
Sarah
Nursery Manager
---